Mr Vipin Asopa is a Specialist Consultant Hip and Knee Surgeon. He
has a particular focus on hip pain, knee pain and sports injuries. He performs numerous surgical procedures including hip and knee joint replacements, arthroscopy and ACL reconstruction surgery. 
He treats many injuries and conditions that can occur in sport,
as well as treating arthritis, trochanteric pain and more. Mr Asopa is committed to improving patient care through research and outcome analyses.
 Mr Asopa practices at the following hospitals: South West London Elective Orthopaedic Centre, London Bridge Hospital, The Shard, Chiswick, Hendon Hospital, The Cavell Hospital, The Kings Oak Hospital and Fitzrovia Hospital.
Whether you are experiencing hip pain, knee pain or have suffered an injury, book an appointment to discuss your symptoms with orthopaedic surgeon Mr Vipin Asopa. Find out more about appointments, diagnosis, treatment and more here:
Mr Vipin Asopa, PhD, FRCS (Tr & Orth), MBChB, BSc (hons)​
CONSULTANT HIP AND KNEE SURGEON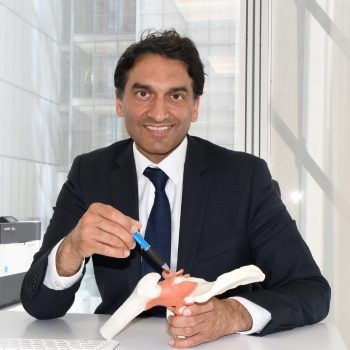 Mr Asopa qualified from the University of Bristol in 1998. He completed his basic surgical training on the prestigious Hammersmith Hospital surgical rotation in 2002 before embarking on a PhD at Imperial College, London. In 2007 he undertook orthopaedic surgery training on the Charing-Cross North-West Thames rotation. He was appointed a Fellow of the Royal College of Surgeons in Trauma and Orthopaedic Surgery in 2011.
Mr Asopa travelled to Adelaide, Australia to undertake a fellowship at SportsMed.SA to develop and refine his sports surgery technique. He then returned to the UK for a further specialist hip arthroscopy and arthroplasty (joint replacement) fellowship at the Royal Berkshire Hospital. He finally completed a trauma fellowship in Vienna, Austria.
From 2014, Vipin held a Consultant Orthopaedic and Trauma Surgeon post at North Middlesex University Hospital. He is now a Consultant at the specialist South West London Elective Orthopaedic Centre, London Bridge Hospital, The Shard, Chiswick, Hendon Hospital, The Cavell Hospital, The Kings Oak Hospital and Fitzrovia Hospital.
MS
ACL RECONSTRUCTION SURGERY
"Coming from an active and sport-based background, I was concerned I wouldn't be able to return to my active lifestyle. Thanks to Mr Asopa's fantastic work I was able to make a full recovery. I was back running after 3 months, and I was able to compete in triathlons again after 8 months. Amazingly I had no issues with my knee during my triathlon training, and no issues during the competition itself. It's like it never happened!"
IS
"My surgery went extremely well, exceeding all my expectations. My leg is no longer distorted, and I am visibly taller; people comment on the noticeable difference this has made. I look and feel younger again. I can walk with no pain at all, and I have a spring in my step. I have a new lease of life, it's amazing."
RL 2
ACL RECONSTRUCTION SURGERY
"My ACL reconstruction surgery with Mr Vipin Asopa was straightforward and stress-free throughout the whole process. I had an injury which had stopped me from playing rugby, and it had become difficult to walk or run....
9 months after my surgery I was able to return to training, and I am pleased to say that I am now able to play rugby without any knee pain at all."
MT 2
"I would like to express my thanks to Mr Asopa after my left knee replacement surgery. Mr Asopa is a very approachable and professional man who communicated everything to me very well, explaining what needed to be done and what will happen clearly."
PL
"Mr Asopa, the anaesthetist and the rest of the team at London Bridge Hospital were extremely helpful and professional. I am very appreciative to Mr Asopa that I have got my quality of life back after my operation. I highly recommend him."
MK 2
ACL RECONSTRUCTION SURGERY
"It was terrific service from Mr Asopa and the team at the Chiswick Medical Centre."
DT 2
"9 months after the surgery I completed back-to-back 100-mile rides and the Tour of Flanders with no knee pain at all!"
ORTHOPAEDIC OPINIONS BLOG
Book your Appointment
with Mr Vipin Asopa
To book an appointment or for any questions or information, please contact Mr Asopa's Medical Secretaries Mandy and Mary by phone or email: