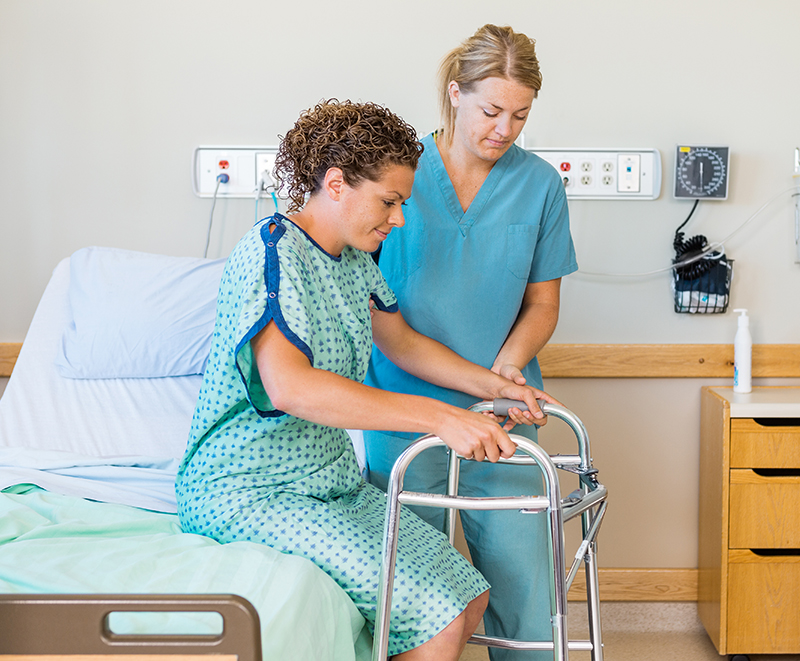 What happens after hip surgery?
by Mr Vipin Asopa, Consultant Hip & Knee Surgeon
19th July 2022
If you are undergoing hip surgery soon, or are contemplating it in the near future and worried about whether you will be able to cope with its consequences as your body is struggling, then this blog will hopefully give you information that is thought worthy and provide re-assurance about what to expect after surgery. Knowing what to typically expect following hip replacement surgery can help you to prepare and put you at ease.
You may have questions such as, how long until you can attempt to walk? How might you feel afterwards? When will you leave the hospital? To answers these questions, this blog takes you through the key stages of what happens once your operation is finished and how you may feel along the journey. I appreciate that everyone's experiences will vary somewhat, based on factors such as age, general health and wellbeing and the specific type of hip surgery you undergo, so I will explore as many different options as possible in this blog.
---
WHEN YOUR SURGERY HAS FINISHED
Let's start from the moment your operation has finished. When your surgery is complete, you will be taken to a recovery room. You may have had a general anaesthetic, in which case this is the point where you will be starting to come round. When you wake up, you may be initially unaware of where you are and what is going on whilst you adjust to the surroundings in the recovery room. Alternatively, you may have had a spinal anaesthetic (with or without sedation) for your surgery. Again, there will be some adjustment to your surroundings.
A nurse will be there to check that you are ok and to ensure you are recovering safely from the anaesthetic. This includes checking your observations to make sure that your blood pressure and oxygen saturation levels are satisfactory. At this point, you may still feel drowsy from the general anaesthetic or sedation. The nurse will also check that you have enough pain relief.
---
RETURNING TO THE WARD
Once the nurse is happy with the checks, they will then take you back to the ward. When recovered, it is key that you take in fluids. The nursing team will encourage you to have a drink to stay hydrated.
You will also be checked on by the nurses regularly. This is to ensure that your observations are good and that you aren't in too much pain and are not experiencing any sickness or dizziness. Your nurse will give you the necessary painkillers to manage the pain. They may also give you other medication to help with sickness. It is usual that you may notice more pain as your anaesthetic continues to wear off and it is important to let the staff know when this is happening so that they can give you more painkillers if needed.
When you are alert and regained function, you will normally see a physiotherapist on the ward after surgery. This may not happen out of hours. They will give you exercises to practice until you are able to start further physiotherapy upon returning home.
---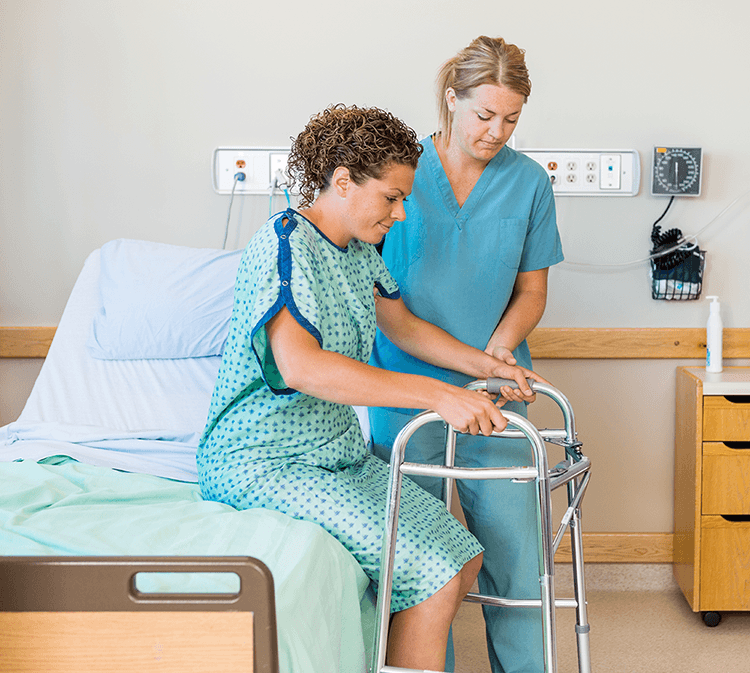 WALKING
You will be encouraged to walk. This is to improve the blood flow and to give you confidence in trying to walk before you return home. The amount of walking and weight-bearing you will be able to do will be a gradual process that will increase during your recovery time based on your surgeons recommendations. You might need to use a walking stick or a crutch to start with. You will usually be tested on stairs before being discharged.
---
Detailing his experience of walking after surgery, one of my hip replacement patients explains:
"I opted for the recommended general anaesthetic, and I was in hospital for only 2 days. I was able to walk with crutches on day 2 and walk unaided (but carefully at first) at home from day 3 (stairs took a bit longer)."

[SL April 2022]
---
GOING HOME
You will spend a few hours recovering on the ward and then it is likely that you will be able to go home the same day if you have had a surgery such as a knee arthroscopy or ligament surgery. If you have had a hip replacement, you are more likely you will stay in hospital overnight, however, it is possible to go home the same day in certain situations..
There will of course be several factors that can affect when you will go home such as you age and general health. Social factors are also important; do you have family and is your home safe (or, do you require adjustments?). If your surgery is performed late in the day, you may be more likely stay in hospital overnight.
When you are discharged, you will be given some information to take home with you. You will also need to make sure you have someone who can drive you home and look after you following your surgery.
---
ONCE YOU'RE AT HOME
Now that you are in the comfort of your own home, it is important to take the time to rest and recover properly to allow time for you wound and for the soft-tissues to heal, depending on the surgery you had. You may still be tired while the anaesthetic is wearing off.
The next stages of recovery will have been explained to you by your surgeon, and this will be detailed in the information you were given when you were discharged. It is essential for your recovery to follow this guidance as best you can, so when you return home please have a read of the information provided.
By this stage, you will already have tried to gradually walk and the amount you are able to walk will increase over time. Your surgical wound will have a dressing on it as you will need to keep it dry and protected until this has healed. This will be approximately two weeks. Advice will be given to you before discharge from the hospital about taking care of the wound.
Always listen to your body, if you are feeling worse at any time, my team and I are available to speak to if you have any questions or concerns about how you are feeling. Please call Mandy or Mary on +44 (0) 794 319 1592, or you can find additional contact information here.
---
FOLLOW-UP
The wound will be checked two weeks after surgery to ensure that it has healed without complication.
To help get your strength, confidence and range of motion back, it will typically be recommended to have physiotherapy following surgery.
You will then have a follow-up appointment six weeks after surgery to assess your progress.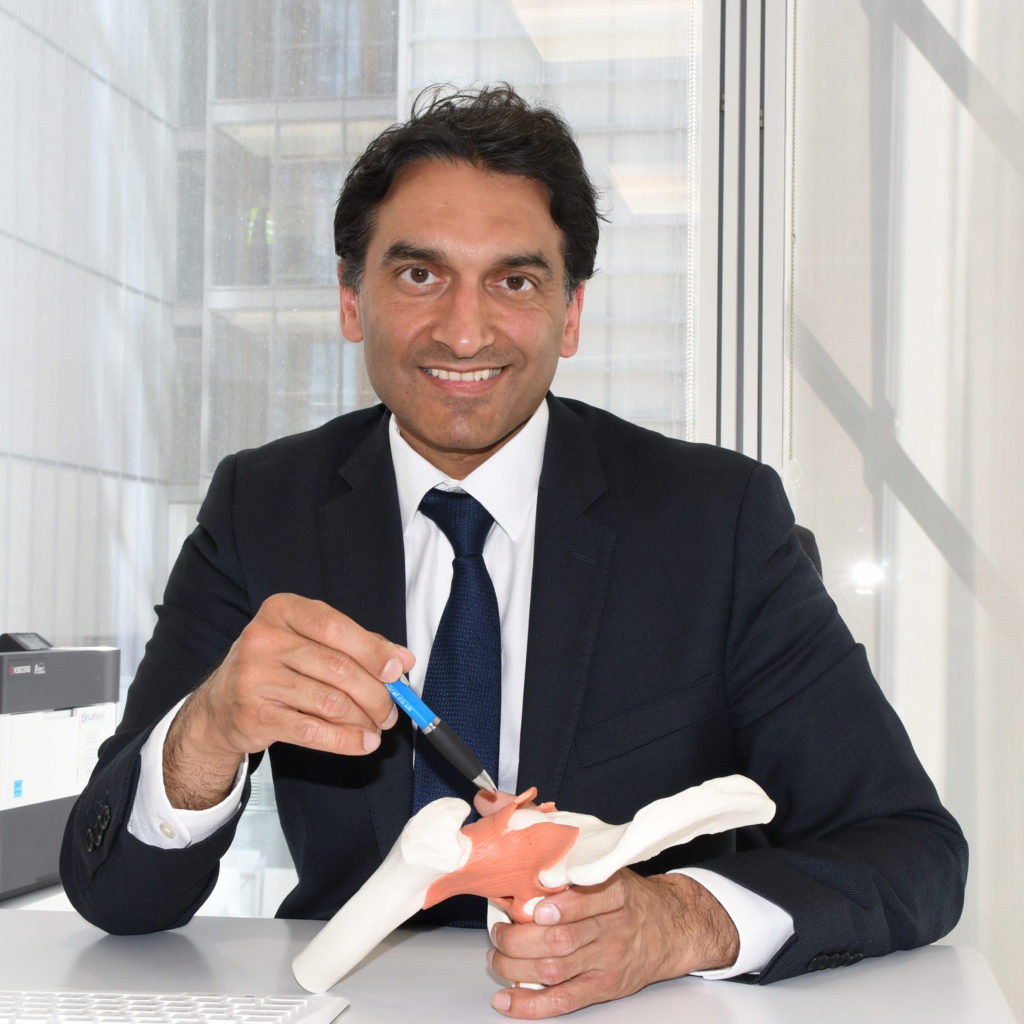 ABOUT THE AUTHOR
Mr Vipin Asopa, PhD, FRCS (Tr & Orth), MBChB, BSc (hons)
Mr Asopa is a Specialist Consultant Hip and Knee Surgeon in London, with a particular focus on hip pain, knee pain and sports injuries. Mr Asopa performs numerous surgical procedures including hip and knee joint replacements, arthroscopy as well as treating arthritis, ligament injuries, trochanteric pain and more.
To book an appointment with Mr Asopa:
Call: +44 (0) 794 319 1592 | Email: admin@ortho-surgery.uk